Matthias Linder1, MD; Lisa Voigtländer1,2, MD; Yvonne Schneeberger3, MD; Oliver Daniel Bhadra3, MD; David Grundmann1, MD; Till Demal3, MD; Alina Goßling1, MSc; Sebastian Ludwig1, MD; Andreas Schaefer3, MD; Lara Waldschmidt1, MD; Johannes Schirmer3, MD; Hermann Reichenspurner3, MD, PhD; Stefan Blankenberg1,2, MD; Ulrich Schäfer4, MD; Dirk Westermann1,2, MD; Niklas Schofer1, MD; Lenard Conradi3, MD; Moritz Seiffert1,2, MD
1. Department of Cardiology, University Heart and Vascular Center Hamburg, Hamburg, Germany; 2. German Center for Cardiovascular Research (DZHK), Partner Site Hamburg/Lübeck/Kiel, Germany; 3. Department of Cardiovascular Surgery, University Heart and Vascular Center Hamburg, Hamburg, Germany; 4. Department of Cardiology, Angiology and Intensive Care Medicine, Marienkrankenhaus, Hamburg, Germany
Aims: The relevance of spontaneous echo contrast (SEC) and left atrial appendage thrombus (LAAT) in patients undergoing transcatheter aortic valve implantation (TAVI) remains unclear. In this study, we aimed to assess the prevalence of SEC and LAAT and evaluate the impact on periprocedural outcome after TAVI.
Methods and results: A total of 2,549 consecutive patients underwent TAVI between 2008 and 2017. After exclusion of cases with insufficient imaging, concomitant procedures or severe intraprocedural complications, 1,558 cases were analysed. Three groups were defined according to (pre)thrombotic formations – moderate or severe SEC (n=89), LAAT (n=53), and reference (n=1,416). The primary outcome was disabling ischaemic stroke within 24 hours. The prevalence was 4.4% for LAAT and 5.4% for moderate/severe SEC. The primary outcome occurred more frequently in patients with moderate/severe SEC (6.8%) compared to the reference (2.1%) and LAAT (1.9%) groups (p=0.020). SEC was identified as an independent risk factor for the primary outcome (OR 3.54 [95% CI: 1.30-9.61], p=0.013). LAAT was associated with an impaired unadjusted one-year survival (43.4%) compared to the SEC (27.3%) and reference groups (18.7%, p<0.001).
Conclusions: SEC and LAAT were detected in a relevant number of patients undergoing TAVI. SEC may represent an important risk factor for intraprocedural stroke; increased mortality was observed in patients with LAAT.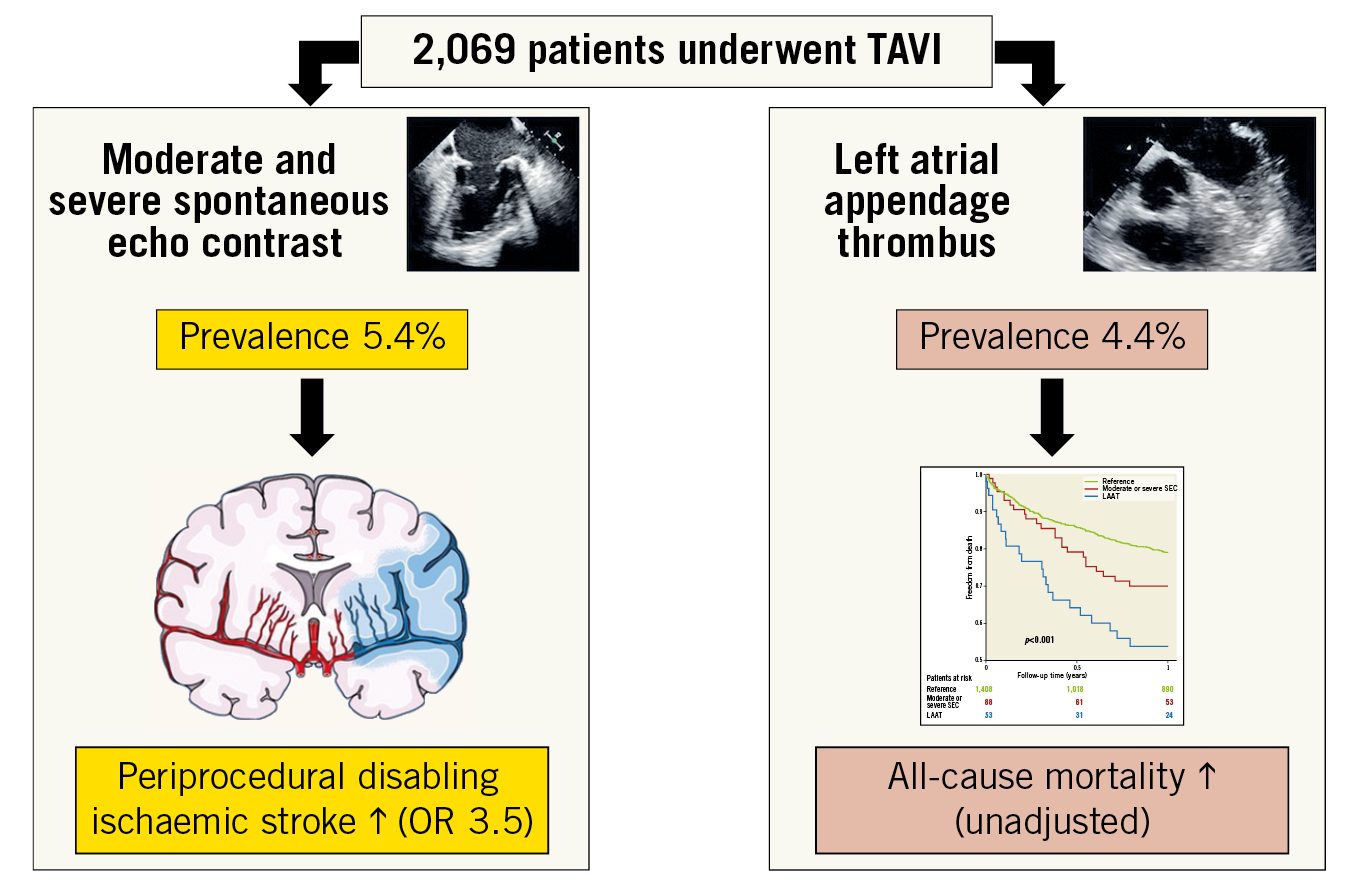 Visual summary. Left atrial appendage thrombus or (pre)thrombotic formations were observed in a relevant number of patients undergoing TAVI. An increased risk for periprocedural cerebrovascular events was observed if moderate or severe spontaneous echo contrast was present. The unadjusted all-cause mortality was higher in patients with left atrial appendage thrombus.
No account yet?
Sign up for free!
Create my pcr account
Join us for free and access thousands of articles from EuroIntervention, as well as presentations, videos, cases from PCRonline.com
stroke
tavi
transoesophageal echocardiogram
Interventions for valvular disease
TAVI
Read next article

Transcatheter Tricuspid Valve Repair with the Modified TriClip/MitraClip G4 System