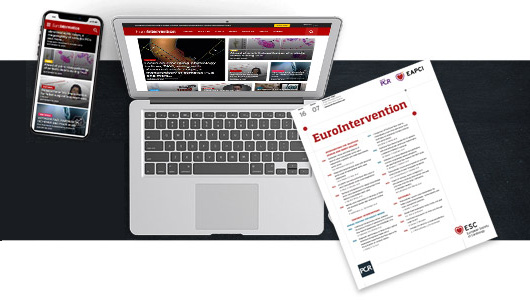 Welcome to the Author's Centre and thank you for considering EuroIntervention (EIJ) as the home for your manuscript. In this section you will find basic information, resources and guidelines to steer you through the manuscript submission, review and publication process. Learn about:



About EIJ
EIJ publishes peer-reviewed articles in English over the entire spectrum of diagnostics and interventions in cardiovascular medicine. In addition to clinical and translational research studies, EIJ publishes state-of-the-art reviews, meta-analyses, expert consensus documents, trial design papers, short reports, editorials and viewpoints. Case reports are not considered for publication except when they include striking images of significant educational value in the form of "Interventional flashlights". EIJ is the official Journal of EuroPCR and the European Association of Percutaneous Cardiovascular Interventions (EAPCI).


Why EIJ?
Since its inception in 2005, the mission of EIJ has been to bring healthcare providers research studies that foster innovation in interventional cardiology and add value to clinical practice. With a 2021 impact factor of 7.728, access to state-of-the-art media at PCRonline and the journal's own website, EIJ is at the cutting edge of scientific publications in interventional cardiology today.
Manuscripts submitted to EIJ benefit from:
A high-standard, single blind peer-review service that is typically completed from submission to decision in 4 weeks for manuscripts that are sent out for external peer review.

Rapid editorial decisions for manuscripts that do not pass the initial screening phase and are typically returned to the authors in 1 to 3 business days from submission without external peer review.
Manuscripts accepted by EIJ benefit from:
Ahead of print publication (AOP)with DOI assignment, fully proofed and formatted in the style of the Journal.


Prompt indexing in MEDLINE®/PubMed®, Science Citation Index® (ISI), SciVerse, Scopus.


Worldwide reach and visibility through the media channels of EIJ, including PCRonline (website and newsletters), Facebook and Twitter. EIJ ranks 1st among interventional cardiology journals in terms of scholarly impact based on Altmetric Score.


Impact on the interventional community with Editorial Office assistance to coordinate the timing of online publication with presentation at medical conferences.


Tracking of article performance through a dedicated metrics box on the article page.

Pre-submission options
EIJ article types may be unsolicited (submitted at author discretion via Editorial Manager) or solicited (invited by the editors).

Pre-submission enquiries - Authors who are uncertain of the suitability of their manuscript for submission may consider sending a pre-submission enquiry to save substantial time and effort. The editorial staff will endeavour to respond to pre-submission enquiries by e-mail in 3 business days. Pre-submission enquiries should include a 250-word summary or synopsis of the proposal and the intended list of authors.

Fast track review - Exceptionally EIJ will consider petitions for fast track review. In this case, authors should submit their manuscript via editorial manager, ensuring that the manuscript adheres to EuroIntervention's authors instructions. An accompanying cover letter should detail why the authors deem the manuscript suitable for fast track review. The Editors will decide and communicate within 2 business days whether the manuscript is suitable for fast track or regular review. Approval for fast track review does not guarantee acceptance of the manuscript, nor does it guarantee expedited publication should the manuscript is accepted.
Simultaneous publication - EIJ considers fast-track review and simultaneous publication of trials and science scheduled for presentation in leading international conferences. Manuscripts can be considered if submitted at least 50 days before the scheduled presentation. A response on the suitability of the manuscript for this option is normally communicated within 2 business days. Authors who are interested in this service should submit a pre-submission enquiry via https://eurointervention.pcronline.com. If finally accepted for publication, the manuscript will be online as Just Accepted Article (JAA) coinciding with the presentation and in accordance with the policy of the conference.


Publication Embargo
A publication embargo may be requested if the authors are presenting their abstracts/results at a subsequent conference. The publication of these submissions can be delayed or fast tracked accordingly. Should authors wish for their submissions to be published with an embargo, authors should include a note in the cover letter at the time of submission. The exact date and time of the presentation should be mentioned.
Please note that this remains at the discretion of the editorial board and is pending acceptance.
Invited or commissioned articles - State-of-the-art reviews, editorials and viewpoints are usually solicited by the editors prior to submission. Authors who are interested in proposing ideas for these types of articles may also send pre-submission enquiries via https://eurointervention.pcronline.com accompanied by a 250-word summary or synopsis of their proposal and the intended list of authors.