Igor Belluschi1, MD; Nicola Buzzatti1, MD; Vittorio Romano2, RT; Ole De Backer3, MD; Lars Søndergaard3, MD; Julia Karady4, MD; Pal Maurovich-Horvat4, MD; Kusha Rahgozar5, MD; Michele De Bonis1, MD; Alessandro Castiglioni1, MD; Antonio Colombo6, MD; Ottavio Alfieri1, MD; Matteo Montorfano2, MD; Azeem Latib5, MD
1. Department of Cardiac Surgery, San Raffaele University Hospital, Milan, Italy; 2. Department of Interventional Cardiology, San Raffaele University Hospital, Milan, Italy; 3. The Heart Center, Rigshospitalet, University of Copenhagen, Copenhagan, Denmark; 4. Heart and Vascular Center, Semmelweis University, Budapest, Hungary; 5. Department of Cardiology, Montefiore Medical Center, New York, NY, USA; 6. Department of Cardiology, Maria Cecilia Hospital, Cotignola, Italy
Aims: The expansion of TAVI will involve an increase in the frequency of emergent or late cardiac surgery after THV implantation. This study was designed to investigate the anatomical feasibility of surgical cross-clamp and aortotomy after TAVI through a post-TAVI CT-scan assessment.
Methods and results: We retrospectively analysed 117 CTs acquired after TAVI procedures with high stent prostheses in three high-volume centres between October 2008 and May 2017. The mean distance observed between the innominate artery and the top of the transcatheter heart valve was 45±11 mm, being <30 mm in 8/117 (6.8%) patients and <20 mm in none. The mean distance between the sinotubular junction and the first free site for aortotomy was 22±7 mm (>20 mm in 78/117 [66.7%] cases). A total of 56/117 (47.9%) patients showed a complete continuous contact between the anterior aortic wall and the anterior part of the valve stent.
Conclusions: Aortic cross-clamp appears not to be an issue when cardiac surgery is needed after TAVI; however, a careful and possibly higher aortotomy may be required. CT should be performed prior to planned cardiac surgery after TAVI to determine a safe positioning for aortic cross-clamp and aortotomy.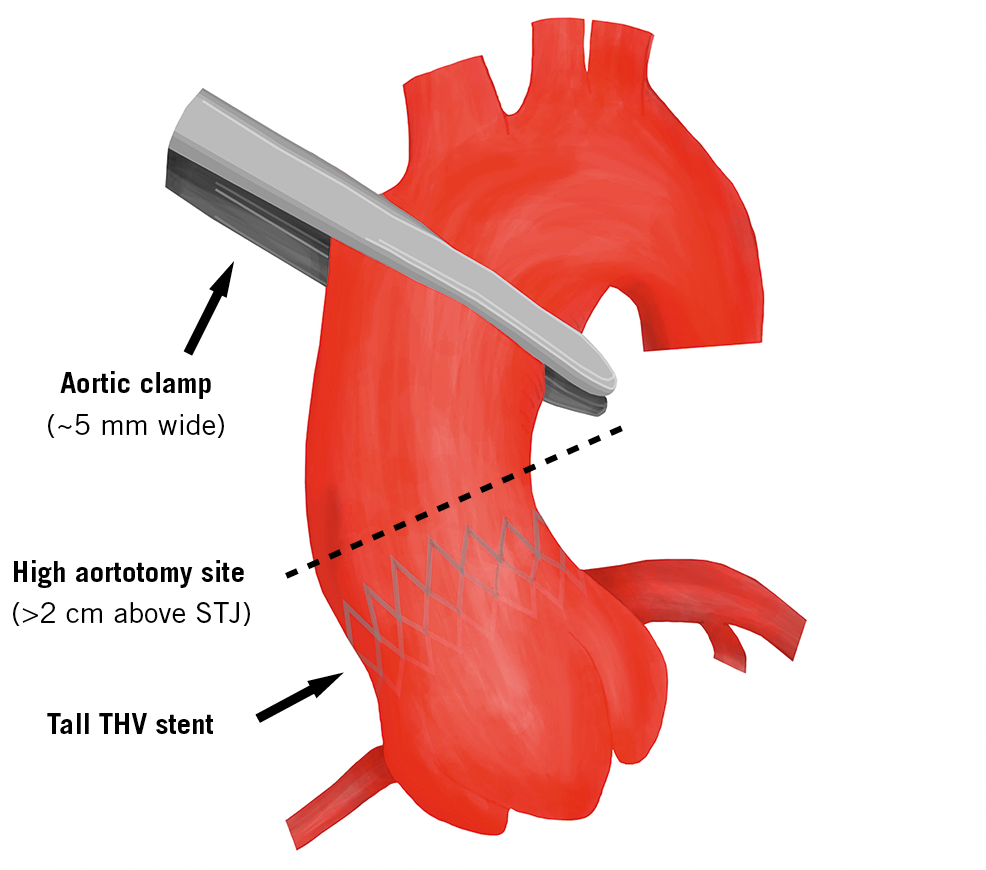 Visual summary. Proper aortic cross-clamp and careful higher aortotomy after TAVI.
No account yet?
Sign up for free!
Create my pcr account
Join us for free and access thousands of articles from EuroIntervention, as well as presentations, videos, cases from PCRonline.com
aortic stenosis
degenerative valve
imaging modalities
msct
tavi
Interventions for valvular disease
TAVI
Read next article

A transcatheter procedure for direct modification of the aneurysmatic left ventricle