Ulf Teichgräber1, MD, MBA; Thomas Lehmann2, PhD; René Aschenbach1, MD; Dierk Scheinert3, MD; Thomas Zeller4, MD; Klaus Brechtel5, MD; Erwin Blessing6, MD; Michael Lichtenberg7, MD; Sebastian Sixt8, MD; Steffen Brucks8, MD; Ulrich Beschorner4, MD; Christof Tobias Klumb1,9, MD; Markus Thieme10, MD; Peter von Flotow11, MD; Britta Heilmeier12, MD; Christian Erbel12, MD; Michael Werk13, MD; Vicenç Riambau14, MD; Andreas Wienke15, MD
1. Department of Radiology, University Hospital Jena, Jena, Germany; 2. Center for Clinical Studies, University Hospital Jena, Jena, Germany; 3. Department of Angiology, University Hospital Leipzig, Leipzig, Germany;; 4. Heart Center Bad Krozingen, Bad Krozingen, Germany; 5. Ihre-Radiologen Berlin Radiology Associates, Berlin, Germany; 6. SRH Clinic Karlsbad-Langensteinbach, Karlsbad, Germany; 7. Clinic of Angiology Arnsberg, Arnsberg, Germany; 8. Angiologikum Hamburg, Hamburg, Germany; 9. Army Hospital Bundeswehrkrankenhaus Ulm, Ulm, Germany; 10. REGIOMED Clinics GmbH, MedinosClinics LK Sonneberg GmbH, Sonneberg, Germany; 11. Department Vascular Medicine, Westpfalz-Hospital, Kusel, Germany; 12. Center Internal Medicine, Ruprecht-Karls-University Heidelberg, Germany; 13. Martin-Luther-Hospital, Berlin, Germany; 14. Hospital Clínic de Barcelona, Barcelona, Spain; 15. Medical Epidemiology, Martin-Luther- University Halle, Germany
Aims: Although paclitaxel drug-coated balloon (DCB) angioplasty is an established endovascular treatment for peripheral artery disease, restenosis remains a major concern. Thus, we compared a novel paclitaxel-coated DCB with nano-coating technology with uncoated plain old balloon angioplasty (POBA).
Methods and results: This multicentre trial randomly assigned 171 patients with stenotic and occlusive lesions of the femoropopliteal artery to angioplasty with a novel DCB or uncoated POBA. The primary endpoint, late lumen loss at six months, was 0.92 mm lower in the DCB group (95% CI: −1.36 to −0.49 mm, p<0.001). Patients showed improved walking after DCB treatment at six months (p=0.021). In the DCB group, 44.6% and 50% of the patients improved by three Rutherford-Becker classification stages after six to 12 months, respectively (POBA: 27.8% and 36.8%, respectively). Only one patient needed TLR (1.3%) in the DCB group, compared to 14 patients (18.7%) in the POBA group after 12 months (relative risk [RR]=0.08, 95% CI: 0.01-0.53, p<0.001). Primary patency was 90.3% (DCB group) versus 65.3% (POBA group) after 12 months (RR=1.38, 95% CI: 1.14-1.67, p<0.001).
Conclusions: The novel DCB was effective and safe for inhibiting restenosis. Moreover, it demonstrated a better improvement in walking than POBA and showed no mortality concerns due to paclitaxel application after 12 months. Clinical Trials Identifier: NCT02540018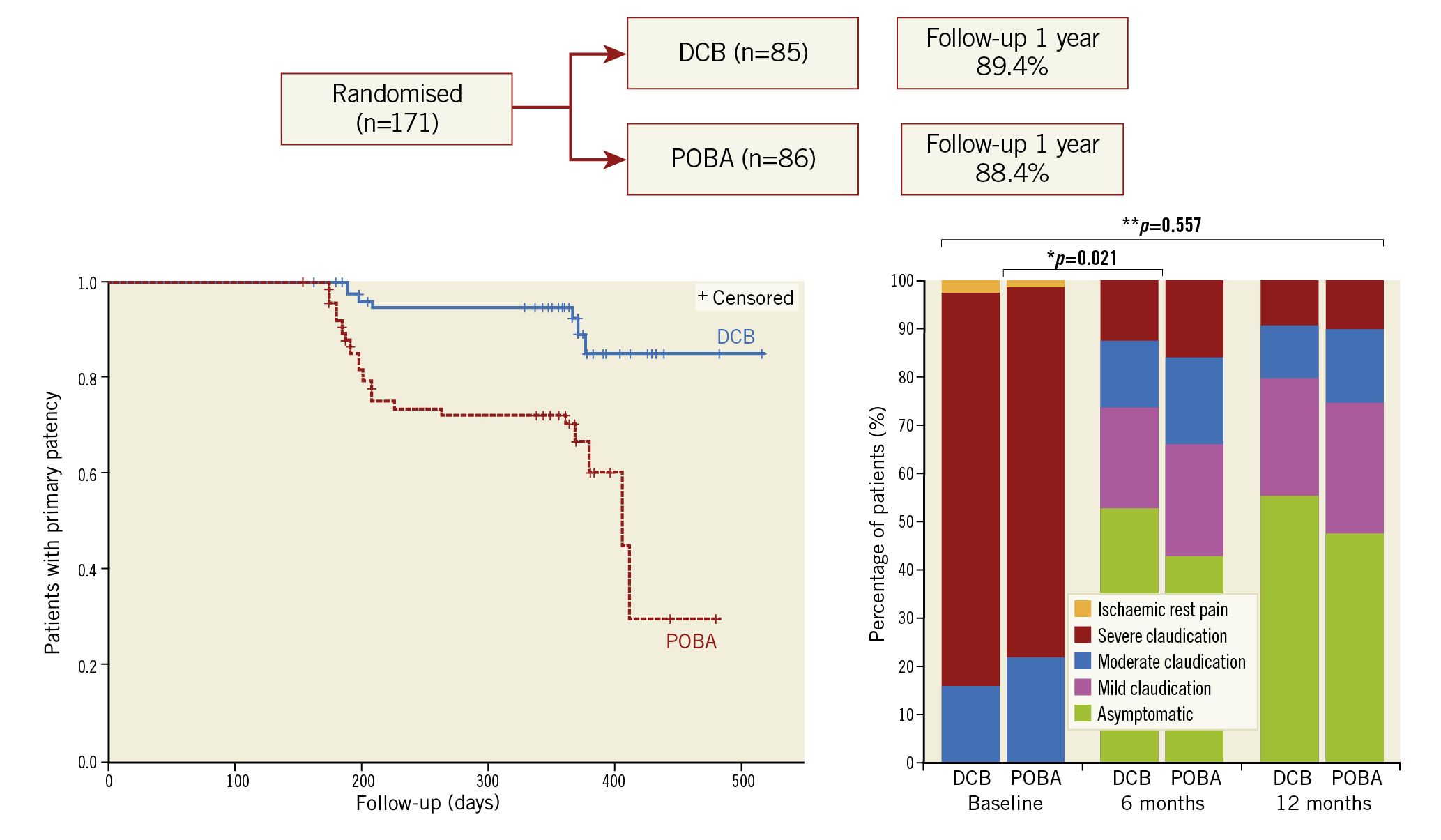 Visual summary. Patient flow, Kaplan-Meier survival curves for primary patency, and change in Rutherford-Becker category over 12 months.
No account yet?
Sign up for free!
Create my pcr account
Join us for free and access thousands of articles from EuroIntervention, as well as presentations, videos, cases from PCRonline.com
clinical trials
femoropopliteal disease
drug-eluting balloon
claudication
balloon
Peripheral interventions
Iliac / Femoral / Popliteal
Read next article

Intravascular lithotripsy for the treatment of calcific distal left main disease