Mitsunobu Kitamura1, MD; Nicolas Majunke1, MD; David Holzhey2,3, MD; Steffen Desch1,3, MD; Amjad Bani Hani2,4, MD; Christian Krieghoff3,5, MD; Matthias Gutberlet3,5, MD; Volodymyr Protsyk6, MD; Joerg Ender6, MD; Michael A. Borger2,3, MD, PhD; Danny Dvir7, MD, PhD; Holger Thiele1,3, MD; Mohamed Abdel-Wahab1,3, MD
1. Department of Structural Heart Disease/Cardiology, Heart Center Leipzig at University of Leipzig, Leipzig, Germany; 2. Department of Structural Heart Disease/Cardiac Surgery, Heart Center Leipzig at University of Leipzig, Leipzig, Germany; 3. Leipzig Heart Institute, Heart Center Leipzig at University of Leipzig, Leipzig, Germany; 4. Department of Cardiac Surgery, University of Jordan, Amman, Jordan; 5. Department of Diagnostic and Interventional Radiology, Heart Center Leipzig at University of Leipzig, Leipzig, Germany; 6. Department of Anaesthesiology and Intensive Care Medicine, Heart Center Leipzig at University of Leipzig, Leipzig, Germany; 7. Department of Cardiology, University of Washington Medical Center, Seattle, WA, USA
Aims: The aim of this study was to evaluate the feasibility, efficacy and safety of the bioprosthetic or native aortic scallop intentional laceration to prevent iatrogenic coronary artery obstruction (BASILICA) technique during transcatheter aortic valve implantation (TAVI) in an initial cohort at a single European centre.
Methods and results: Between August 2018 and March 2020, BASILICA was attempted in 23 leaflets in 21 consecutive patients undergoing TAVI (age 78±6 years, 52% female). The index procedure was performed for 21 degenerated bioprosthetic leaflets (90%, 9.2±2.6 years after implantation) and two native leaflets (10%). BASILICA was performed for a single leaflet in 19 (90%) patients and for both leaflets in two (10%) patients. The median total procedure time was 82 (interquartile range [IQR] 70-131) minutes, and BASILICA time (sheath-in to laceration) was 45 (IQR 35-67) minutes. A cerebral embolic protection device was used in 20 (95%) patients. BASILICA was feasible in all but one patient (95%) and resulted in effective prevention of coronary obstruction in 19 patients (90%). One patient developed a non-flow-limiting ostial lesion after BASILICA and TAVI, and was treated by additional coronary stenting. No mortality or stroke was observed up to 30 days.
Conclusions: The feasibility, efficacy and safety of BASILICA in this early single-centre experience were consistent with the initial proof-of-concept reports. Further validation by ongoing multicentre registries remains warranted.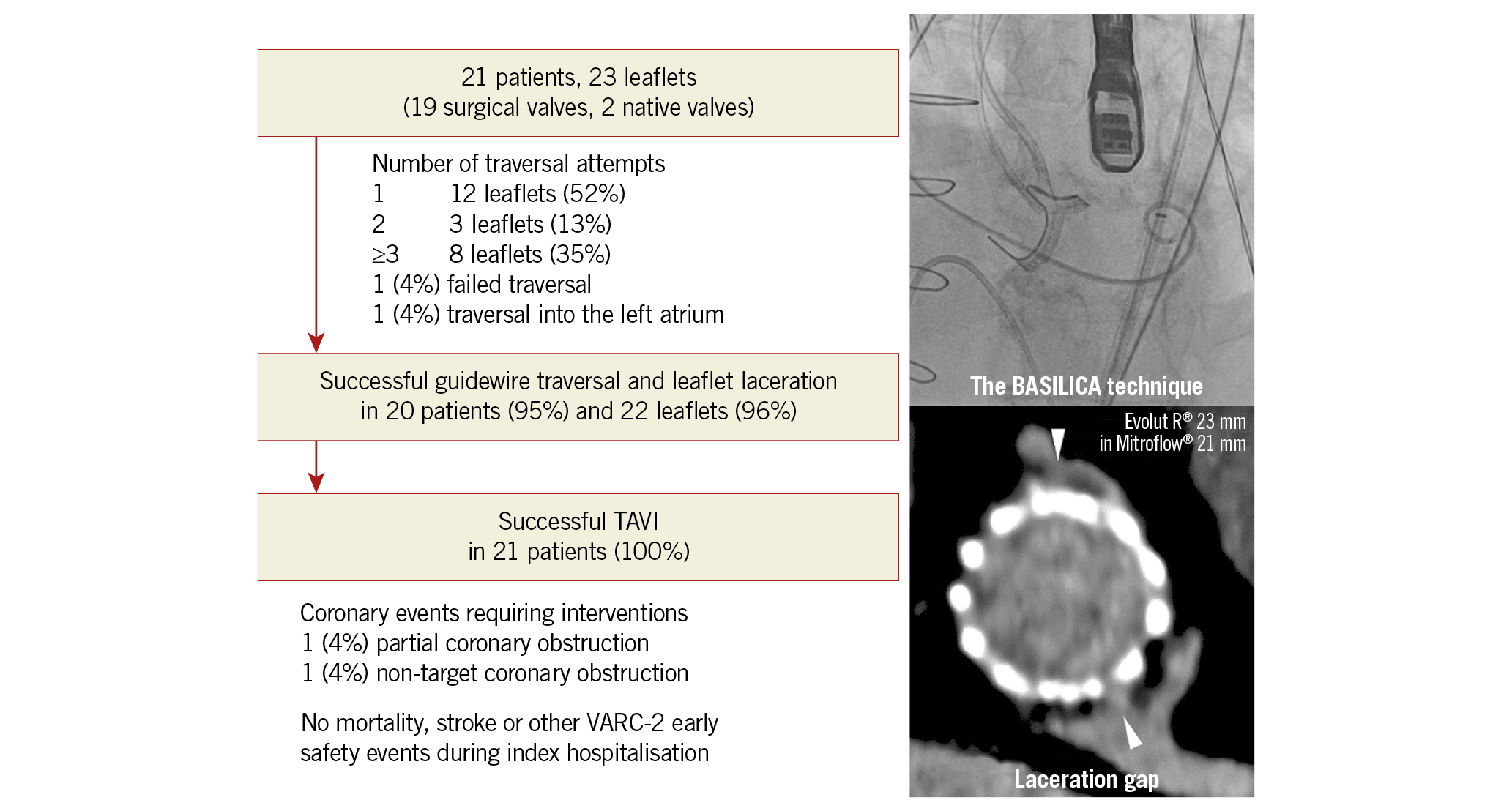 Visual summary. The Leipzig BASILICA experience.
No account yet?
Sign up for free!
Create my pcr account
Join us for free and access thousands of articles from EuroIntervention, as well as presentations, videos, cases from PCRonline.com
aortic stenosis
coronary occlusion
degenerative valve
tavi
valve-in-valve
Interventions for valvular disease
TAVI
Read next article

Letter: A word of caution on haemodynamic structural valve deterioration of the latest-generation balloon-expandable transcatheter aortic valves