Eustaquio Maria Onorato1, MD; Manuela Muratori1, MD; Grzegorz Smolka2, MD, PhD; Magdalena Malczewska3, MD; Aleksejus Zorinas4, MD, PhD; Diana Zakarkaite4, MD; Abdurashid Mussayev5, MD; Christous P. Christos6, MD; Fabrice Bauer7, MD; Thomas Gandet8, MD; Gian Luca Martinelli9, MD; Anna Maria Costante10, MD; Antonio L. Bartorelli1,11
1. Centro Cardiologico Monzino, IRCCS, University School of Milan, Milan, Italy; 2. 3rd Division of Cardiology, Medical University of Silesia, Katowice, Poland; 3. Leszek Giec Upper-Silesian Medical Centre of the Silesian Medical University, Katowice, Poland; 4. Department of Cardiovascular Medicine, Vilnius University, Vilnius, Lithuania; 5. National Research Cardiac Surgery Center, Astana, Kazakhstan; 6. American Heart Institute, Nicosia, Cyprus; 7. Centre Hospitalier Universitaire "Charles Nicolle", Rouen, France; 8. Centre Hospitalier Universitaire, Hôpital Arnaud de Villeneuve, Montpellier, France; 9. Clinica San Gaudenzio, Novara, Italy; 10. Azienda Ospedaliera SS. Antonio e Biagio e Cesare Arrigo, Alessandria, Italy; 11. Department of Biomedical and Clinical Sciences "Luigi Sacco", University of Milan, Milan, Italy
Aims: The aim of this study was to assess the efficacy and safety of the Occlutech Paravalvular Leak Device (PLD) for the percutaneous closure of paravalvular leaks (PVL).
Methods and results: Patients with PVL were enrolled at 21 sites from nine countries. Indications for PVL closure were heart failure and/or haemolytic anaemia. Endpoint measures were changes in PV regurgitation grade, NYHA class and requirement for haemolysis-related transfusion. One-hundred and thirty-six patients with mitral (67.6%) or aortic (32.4%) leaks were included (mean age 66.7 years, 58% male); 31% had multiple PVLs. The proportion of patients with NYHA Class III/IV decreased from 77.3% at baseline to 16.9% at latest follow-up. The proportion of patients with need for haemolysis-related blood transfusion decreased from 36.8% to 5.9% and from 8.3% to 0% for ML patients and AL patients, respectively. All-cause mortality was 7.4%. Complications included interference with valve leaflets (0.7%), transient device embolisation (percutaneously solved) (0.7%), late device embolisation (0.7%), recurrent haemolytic anaemia (2.2%), new-onset haemolytic anaemia (0.7%), valve surgery (2.2%), need for repeat closure (0.7%), complications at femoral puncture site (0.7%) and arrhythmias requiring treatment (4.4%).
Conclusions: PVL closure with the Occlutech PLD demonstrated a high success rate associated with significant clinical improvement and a relatively low rate of serious complications.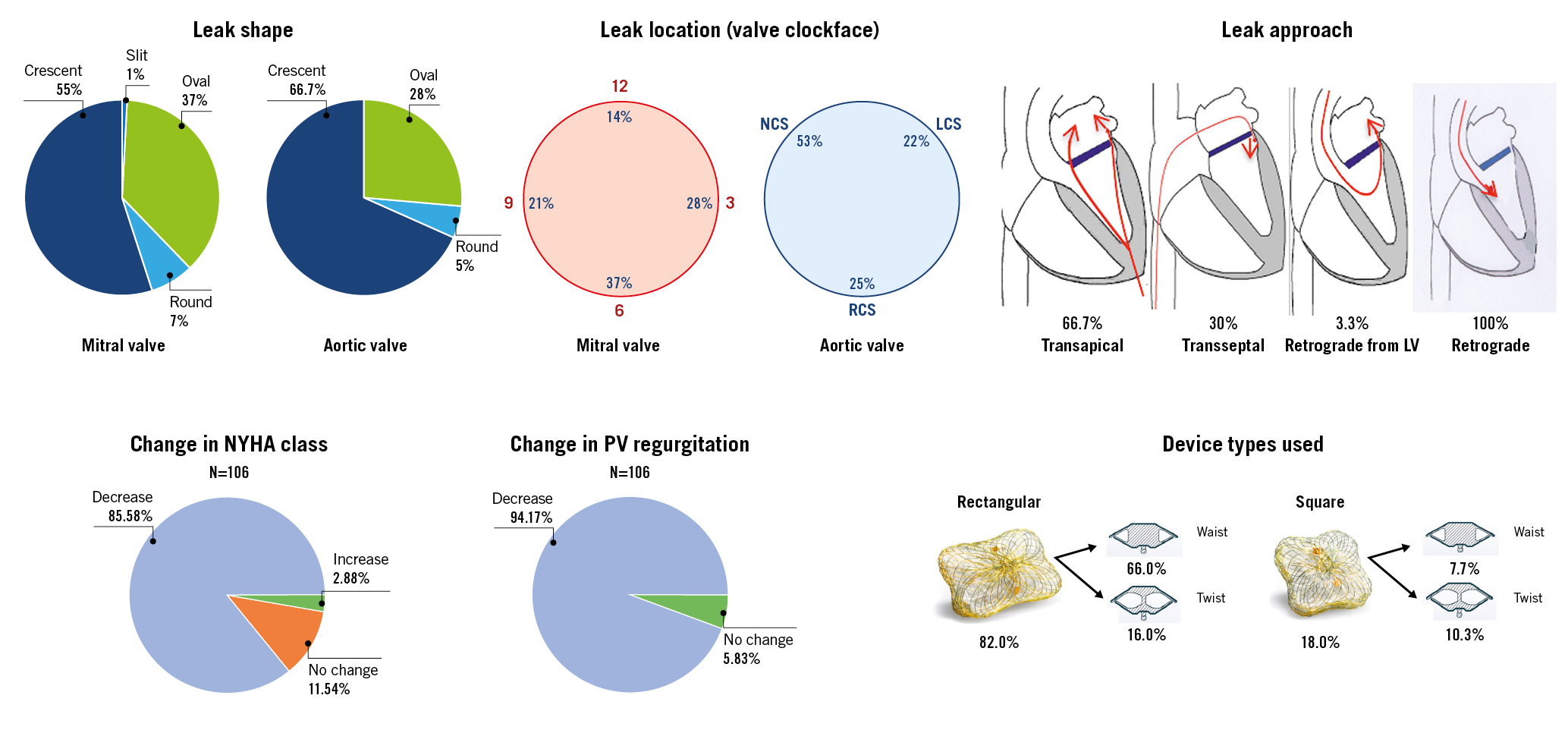 Visual summary. PVL characteristics, leak approach, device types and midterm procedural and clinical outcomes of percutaneous paravalvular leak closure with the Occlutech® PLD. Transcatheter PVL closure with the specifically designed PLD was demonstrated to be effective with a relatively low rate of major complications. Procedural success for ML and AL closure was high with a low rate of residual or recurrent leaks. Significant improvement of NYHA class, and reduction of haemolytic anaemia and transfusion dependency were achieved.
No account yet?
Sign up for free!
Create my pcr account
Join us for free and access thousands of articles from EuroIntervention, as well as presentations, videos, cases from PCRonline.com
imaging modalities
specific closure device/technique
transoesophageal echocardiogram
transthoracic echocardiogram
Interventions for valvular disease
Other valvular and structural interventions
Read next article

Feasibility of quantitative assessment of aortic regurgitation in a percutaneous closure of paravalvular leak: expanding videodensitometry