Andrew Ladwiniec1, MD; Simon J. Walsh2, MD; Niels Ramsing Holm3, MD; Colm G. Hanratty2, MD; Timo Mäkikallio4, MD; Thomas Kellerth5, MD; David Hildick-Smith6, MD; Lone J.H. Mogensen3, MStat; Juha Hartikainen7, MD, PhD; Ian B.A. Menown8, MD, PhD; Andrejs Erglis9, MD, FRCP; Erlend Eriksen10, MD, PhD; Mark S. Spence2, MD; Leif Thuesen11, MD, DMSc; Evald Høj Christiansen3, MD, PhD
1. Department of Cardiology, Glenfield Hospital, Leicester, United Kingdom; 2. Department of Cardiology, Royal Victoria Hospital, Belfast, Northern Ireland, United Kingdom; 3. Department of Cardiology, Aarhus University Hospital, Skejby, Aarhus, Denmark; 4. Department of Cardiology, Oulu University Hospital, Oulu, Finland; 5. Department of Cardiology, Örebro University Hospital, Örebro, Sweden; 6. Sussex Cardiac Centre, Brighton and Sussex University Hospital, Brighton, United Kingdom; 7. Heart Center, Kuopio University Hospital, Kuopio, Finland; 8. Craigavon Cardiac Centre, Craigavon, Northern Ireland, United Kingdom; 9. Latvia Centre of Cardiology, Paul Stradins Clinical Hospital, Riga, Latvia; 10. Department of Heart Disease, Haukeland University Hospital, Bergen, Norway; 11. Department of Cardiology, Aalborg University Hospital, Aalborg, Denmark
Aims: We aimed to investigate the association between the use and findings of IVUS with clinical outcomes in the PCI arm of a randomised trial of LMS PCI.
Methods and results: The NOBLE trial randomised patients with LMS disease to treatment by PCI or CABG. Of 603 patients treated by PCI, 435 (72%) underwent post-PCI IVUS assessment, 224 of which were analysed in a core laboratory. At five years, the composite of MACCE was 18.9% if post-PCI IVUS was performed versus 25.0% if it was not performed (p=0.45, after adjustment). Overall repeat revascularisation was not reduced (10.6% vs 16.5%, p=0.11); however, LMS TLR was (5.1% vs 11.6%, p=0.01) if IVUS was used. For comparison of stent expansion, LMS MSA was split into tertiles. We found no significant difference in MACCE, death, myocardial infarction or stent thrombosis between tertiles. There was a significant difference between the lower and upper tertiles for repeat revascularisation (17.6% vs 5.2%, p=0.02) and LMS TLR (12.2% vs 0%, p=0.002).
Conclusions: Post-PCI IVUS assessment and adequate stent expansion are not associated with reduced MACCE; however, there is an association with reduced LMS TLR. The use of intracoronary imaging to prevent stent underexpansion in LMS PCI is likely to improve outcomes.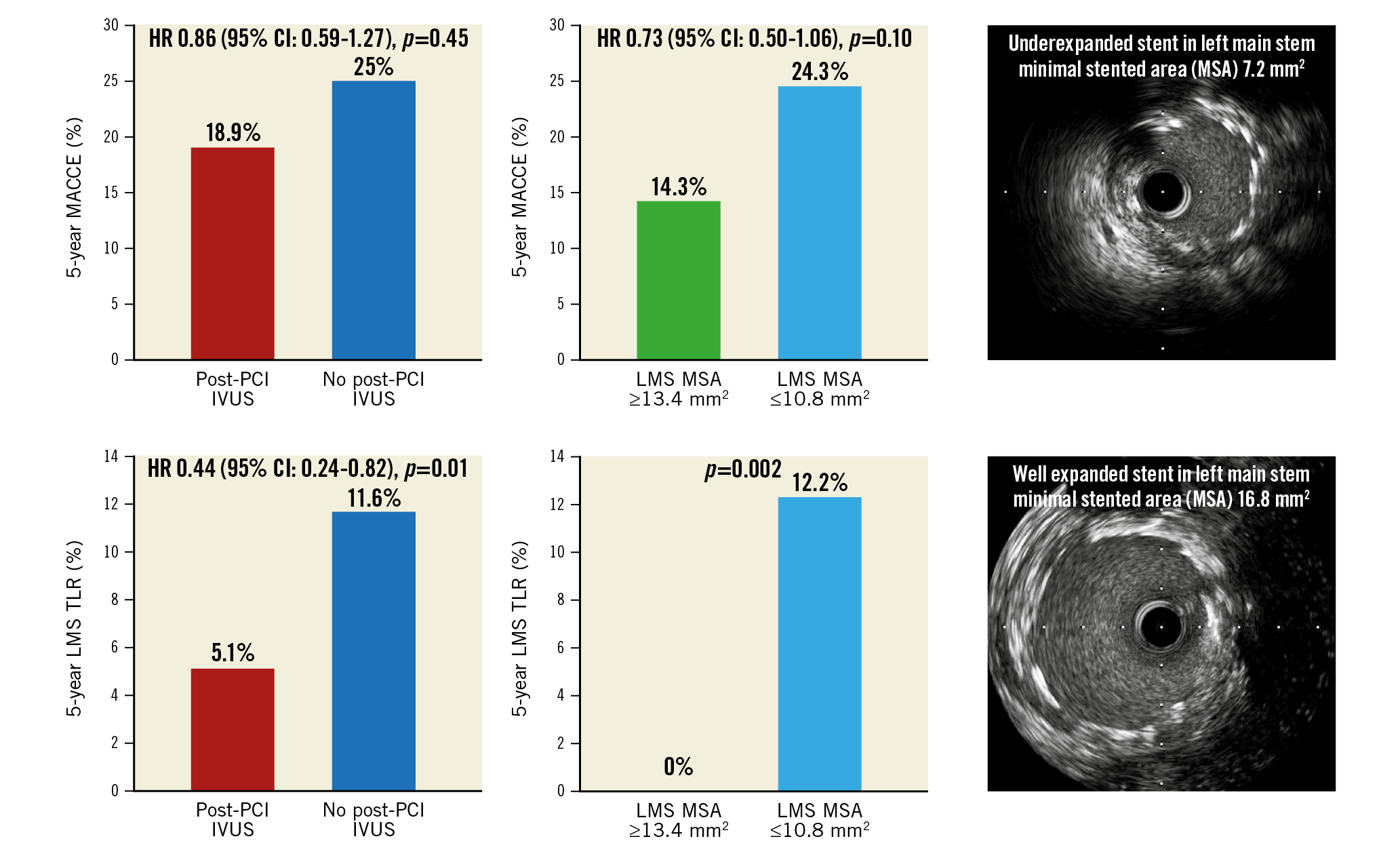 Visual summary. Rates of MACCE (top) and left main stem target revascularisation (bottom) for patients with and without post-PCI IVUS assessment (left) and lower and upper LMS minimal stented area tertiles (right).
No account yet?
Sign up for free!
Create my pcr account
Join us for free and access thousands of articles from EuroIntervention, as well as presentations, videos, cases from PCRonline.com
drug-eluting stent
intravascular ultrasound
left main
Coronary interventions
Left main and multivessel disease
Read next article

Outcomes of predefined optimisation criteria for intravascular ultrasound guidance of left main stenting