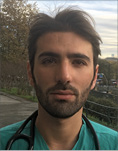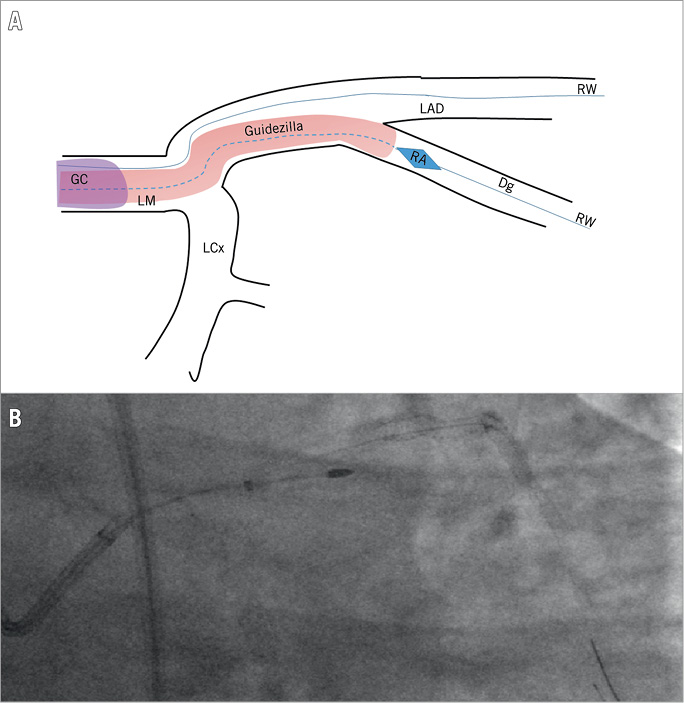 Rotational atherectomy (RA) and subsequent stent implantation is the method of choice when handling uncrossable and/or undilatable coronary lesions1-3. In severely calcific coronary bifurcations, this technique has been demonstrated to be safe and is recommended in selected cases of difficult side branch access4. A limitation in this setting, if both main vessel and side branch require RA, is the inability to place a second wire, due to the burr rotation, exposing the patients to several risks. In this paper we present a case of heavily calcified coronary bifurcation treated with the "double wire rotational atherectomy technique".
A 72-year-old male patient presented with unstable angina and critical three-vessel coronary artery disease. Despite a SYNTAX score of 36, the patient underwent percutaneous coronary intervention (PCI) because he had been refused for surgery due to important comorbidities. First, PCI of the right coronary artery and left circumflex artery with drug-eluting stents (DES) was performed, followed by a staged procedure for the left anterior descending (LAD) coronary artery. The LAD presented a proximal calcific lesion in the bifurcation with the first diagonal branch (Moving image 1, Moving image 2), uncrossable with intravascular ultrasound (IVUS). The femoral approach with an 8 Fr catheter was chosen. RA (ROTABLATOR™ Rotational Atherectomy System; Boston Scientific, Marlborough, MA, USA) with a 1.5 mm burr upgraded to 2.0 mm was performed on the LAD with success (Moving image 3). Later, a second ROTAWire™ was placed in the diagonal branch and a GUIDEZILLA™ Guide Extension Catheter 7 Fr (both Boston Scientific) was advanced to the ostium of the diagonal, thus protecting the wire left in the LAD (Panel A, Moving image 4). Afterwards, RA of the side branch with a 1.5 mm burr was performed without complications (Panel B, Moving image 5, Moving image 6). Both ROTABLATOR and GUIDEZILLA were removed, multiple dilatations with non-compliant balloons were performed and two DES were placed with the DK-CRUSH technique (Moving image 7, Moving image 8) completed by final kissing and POT, with good angiographic and IVUS final results (Moving image 9, Moving image 10). The double wire guide extension-assisted RA technique is a new technique to approach complex bifurcation with safety and efficacy, eliminating the need to withdraw one of the two wires. The main advantage of this technique is when recrossing of the side branch could be difficult. The main limitation is the need for a 7 Fr "child in mother" with an 8 Fr guiding catheter (to pass the second wire outside the GUIDEZILLA). In addition, it is applicable only to relatively proximal lesions.
Conflict of interest statement
The authors have no conflicts of interest to declare.
Supplementary data
Moving image 1. Baseline angiography.
Moving image 2. Baseline angiography.
Moving image 3. Rotational atherectomy on left anterior descending coronary artery (LAD).
Moving image 4. GUIDEZILLA placed on diagonal branch (Dg).
Moving image 5. Rotational atherectomy on Dg.
Moving image 6. Baseline angiography.
Moving image 7. PCI on LAD/Dg.
Moving image 8. PCI on LAD/Dg.
Moving image 9. Final angiography.
Moving image 10. Final angiography.