Josep Gomez-Lara1; Luis Ortega-Paz2, MD; Salvatore Brugaletta2, MD, PhD; Javier Cuesta3, MD; Sebastián Romaní4, MD; Antonio Serra5, MD; Pablo Salinas6, MD; Bruno García del Blanco7, MD; Javier Goicolea8, MD; Rosana Hernandez-Antolín9, MD; Paula Antuña3, MD; Rafael Romaguera1, MD; Ander Regueiro2, MD, PhD; Fernando Rivero3, MD; Àngel Cequier1, MD, PhD; Fernando Alfonso3, MD, PhD; Joan Antoni Gómez-Hospital1, MD, PhD; Manel Sabaté2, MD, PhD
1. Hospital Universitari de Bellvitge, Institut d'Investigació Biomèdica de Bellvitge (IDIBELL), L'Hospitalet de Llobregat, Barcelona, Spain; 2. Hospital Clínic i Provincial de Barcelona, IDIBAPS (Institut d'Investigacions Biomèdiques August Pi i Sunyer), Barcelona, Spain; 3. Hospital Universitario La Princesa, Instituto Investigación Sanitaria-IP, Madrid, Spain; 4. Hospital San Pedro de Alcántara, Cáceres, Spain; 5. Hospital Universitari de Sant Pau, Barcelona, Spain; 6. Hospital Clínico San Carlos, Instituto de Investigación Sanitaria del Hospital Clínico San Carlos (IdISSC), Madrid, Spain; 7. Hospital Universitari Vall d'Hebrón, Barcelona, Spain; 8. Hospital Puerta de Hierro-Majadahonda, Madrid, Spain; 9. Hospital Ramón y Cajal, Madrid, Spain
Aims: The MAGSTEMI trial showed larger endothelium-independent vasodilatation with magnesium-based bioresorbable scaffolds (MgBRS) than with sirolimus-eluting stents (SES). However, restenosis was more frequent with MgBRS. The aims of this study were to compare the healing pattern between MgBRS and SES and to describe the main causes of restenosis, as assessed by optical coherence tomography (OCT).
Methods and results: Ninety-five consecutive patients from the randomised MAGSTEMI trial (MgBRS=48, SES=47) underwent OCT imaging at one year. Healing and bioresorption pattern were categorised into four groups: 1) indiscernible struts were observed in 33.3% versus 0% of patients (p<0.001); 2) struts integrated into the vessel wall in 22.9% versus 63.8% (p<0.001); 3) protruding struts in 37.5% versus 31.9% (p=0.568); and 4) protruding and malapposed struts in 6.3% versus 4.3% (p=0.663), respectively. MgBRS were not suitable for strut coverage analysis; SES presented with 5.6% uncovered struts. Scaffold discontinuities were observed in 10.4% and 0%, respectively (p=0.023). MgBRS presented smaller minimal lumen area (3.92±2.02 vs 6.31±1.71 mm²; p<0.001) and larger area stenosis (52.84±18.05 vs 25.02±14.58%; p<0.001). Scaffold measurements were only feasible in 50% of MgBRS, with the expansion index being smaller than in SES (0.58±0.16 vs 0.86±0.19; p<0.001). Scaffold collapse was observed in at least 50% of cases with MgBRS restenosis.
Conclusions: Both MgBRS and SES exhibited a low degree of neointima healing, but lumen dimensions were smaller with MgBRS at one year. Although the advanced bioresorption state of MgBRS hampers the assessment of scaffold collapse, this seems to be the main mechanism of restenosis. Future generations of MgBRS should increase and prolong the radial force. Clinical trial registration: NCT03234348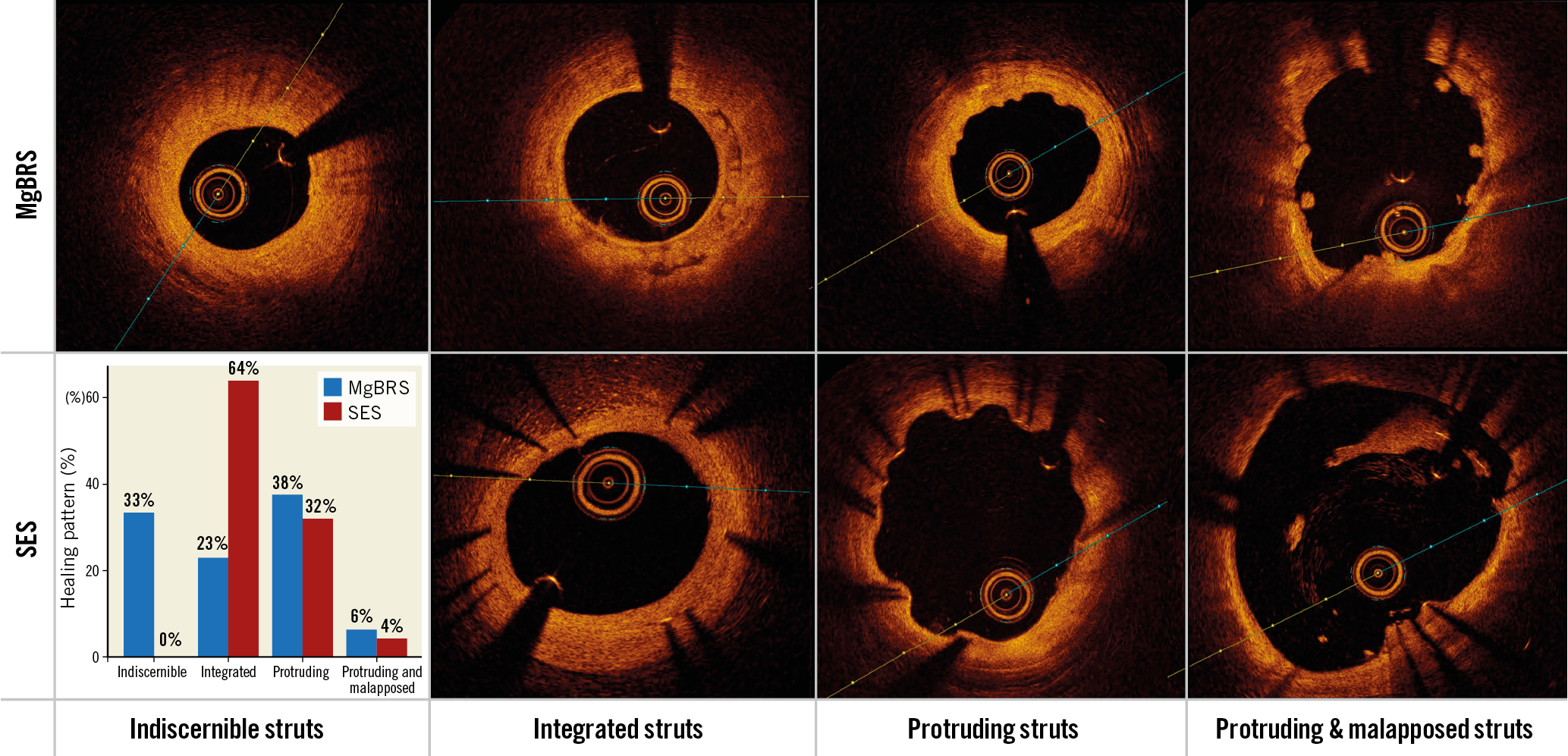 Visual summary. Bioresorption and neointima patterns of Mg-based bioresorbabable scaffolds versus permanent sirolimus-eluting stents in STEMI patients at one year.
No account yet?
Sign up for free!
Create my pcr account
Join us for free and access thousands of articles from EuroIntervention, as well as presentations, videos, cases from PCRonline.com
bioresorbable scaffolds
optical coherence tomography
stemi
Coronary interventions
STEMI
Stents and scaffolds
Other coronary interventions
Read next article

Preclinical investigation of neoatherosclerosis in magnesium-based bioresorbable scaffolds versus thick-strut drug-eluting stents