Aims: This study sought to characterise the real-world performance and clinical outcomes of the PASCAL system, a leaflet approximation device for transcatheter mitral valve repair.
Methods and results: Fifty patients in NYHA Class II-IV despite optimal medical therapy (median age 78.0 years [IQR 74.5-81.0], 52% female, log EuroSCORE 21.6 [IQR 13.2-30.2]) were treated for severe mitral regurgitation (MR) and followed up for one month. Primary and secondary MR was present in 24% and 68% of patients, respectively, with a mixed aetiology observed in 8%. A 1-device strategy was employed in 26/50 patients (52%), a 2-device strategy in 23/50 (46%) patients, and a 3-device strategy in 1/50 (2%) patients. Technical and procedural success was achieved in 100% and 98% of patients, respectively. MR grade ≤1 was observed in 39/50 (78%) patients at discharge, and in 36/46 (78%) patients at one month, with transvalvular gradients remaining ≤5 mmHg in all patients. One device embolisation and one single leaflet device attachment were observed during follow-up. After one month, 73% of patients reported an improvement in NYHA class, and six-minute walk test distance increased by 73±12 m in patients without relevant tricuspid regurgitation.
Conclusions: In a real-world population, the PASCAL device effectively reduces MR and leads to functional improvements on short-term follow-up.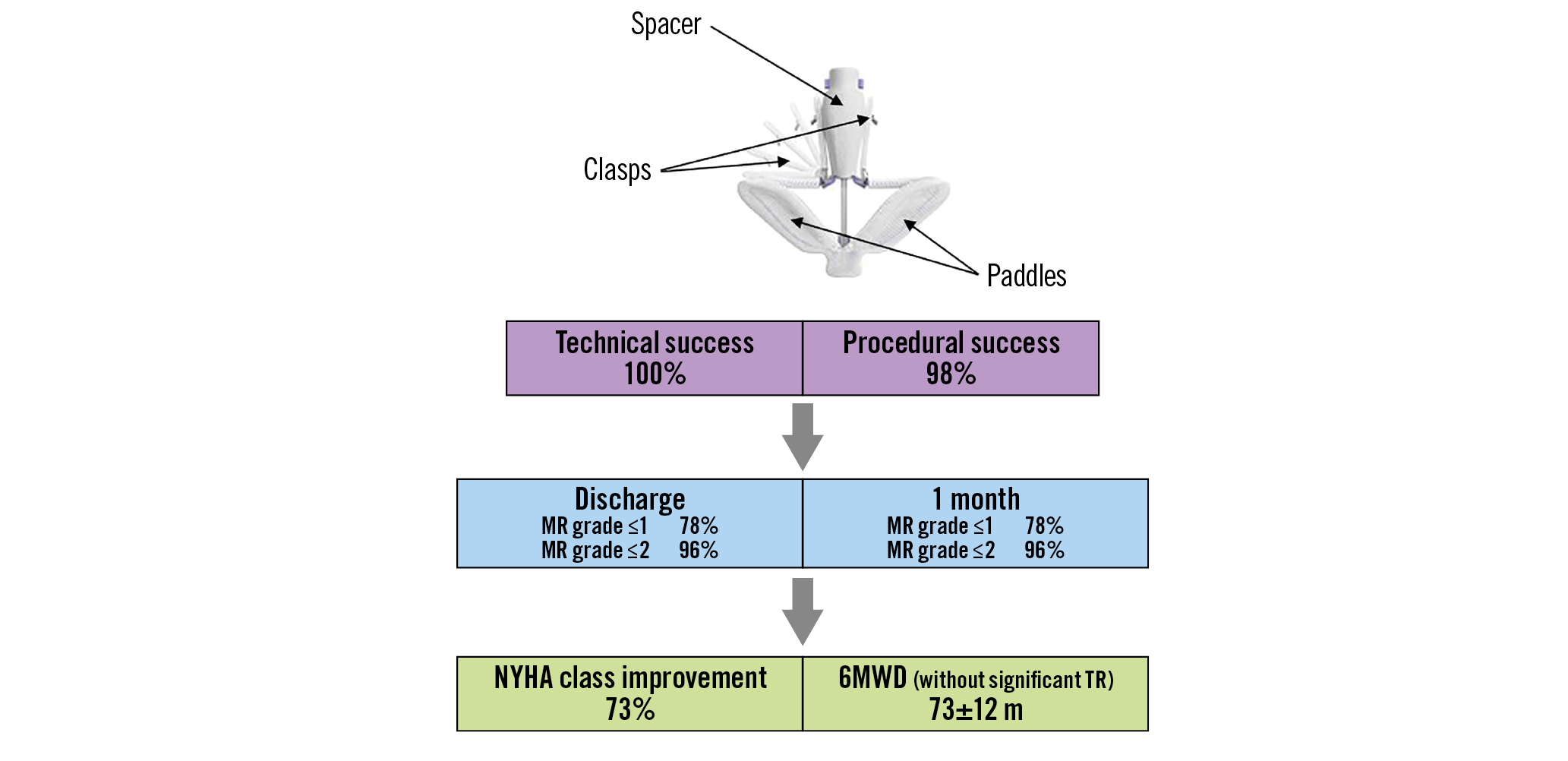 Visual summary. PASCAL system in mitral regurgitation.