Oriol Rodriguez-Leor1,2,3, MD, PhD; Ana Belen Cid Alvarez4, MD; Armando Pérez de Prado5, MD, PhD; Xavier Rossello2,6,7, MD, PhD; Soledad Ojeda8, MD, PhD; Ana Serrador2,9, MD, PhD; Ramon López-Palop10, MD, PhD; Javier Martin-Moreiras2,11, MD, PhD; Jose Ramon Rumoroso12, MD, PhD; Angel Cequier13, MD, PhD; Borja Ibáñez2,6,14, MD, PhD; Ignatio Cruz-González2,11, MD, PhD; Rafael Romaguera13, MD, PhD; Raúl Moreno2,15, MD, PhD
1. Institut del Cor, Hospital Universitari Germans Trias i Pujol, Badalona, Spain; 2. CIBER de Enfermedades CardioVasculares (CIBERCV) Instituto de Salud Carlos III, Madrid, Spain; 3. Institut de Recerca en Ciències de la Salut Germans Trias i Pujol, Badalona, Spain; 4. Cardiology Department, Hospital Clínico de Santiago de Compostela, Santiago de Compostela, Spain; 5. Cardiology Department, Hospital de León, León, Spain; 6. Centro Nacional de Investigaciones Cardiovasculares Carlos III (CNIC), Madrid, Spain; 7. Cardiology Department, Health Research Institute of the Balearic Islands (IdISBa), Hospital Universitari Son Espases, Palma, Spain; 8. Cardiology Department, Hospital Universitario Reina Sofía, IMIBIC, Universidad de Córdoba, Córdoba, Spain; 9. Cardiology Department, Hospital Clínico de Valladolid, Valladolid, Spain; 10. Cardiology Department, Hospital Virgen de la Arrixaca, El Palmar, Murcia, Spain; 11. Cardiology Department, Hospital Universitario de Salamanca, IBSAL, Salamanca, Spain; 12. Cardiology Department, Hospital de Galdakao-Usansolo, Galdakao, Vizcaya, Spain; 13. Cardiology Department, Hospital de Bellvitge - IDIBELL, Universitat de Barcelona, L'Hospitalet de Llobregat, Barcelona, Spain; 14. Cardiology Department, IIS-Fundación Jiménez Díaz University Hospital, Madrid, Spain; 15. Cardiology Department, Hospital de La Paz, Madrid, Spain
Aims: The aim of this study was to assess clinical and prognosis differences in patients with COVID-19 and STEMI.
Methods and results: Using a nationwide registry of consecutive patients managed within 42 specific STEMI care networks, we compared patient and procedure characteristics and in-hospital outcomes in two different cohorts, according to whether or not they had COVID-19. Among 1,010 consecutive STEMI patients, 91 were identified as having COVID-19 (9.0%). With the exception of smoking status (more frequent in non-COVID-19 patients) and previous coronary artery disease (more frequent in COVID-19 patients), clinical characteristics were similar between the groups, but COVID-19 patients had more heart failure on arrival (31.9% vs 18.4%, p=0.002). Mechanical thrombectomy (44% vs 33.5%, p=0.046) and GP IIb/IIIa inhibitor administration (20.9% vs 11.2%, p=0.007) were more frequent in COVID-19 patients, who had an increased in-hospital mortality (23.1% vs 5.7%, p<0.0001), that remained consistent after adjustment for age, sex, Killip class and ischaemic time (OR 4.85, 95% CI: 2.04-11.51; p<0.001). COVID-19 patients had an increase of stent thrombosis (3.3% vs 0.8%, p=0.020) and cardiogenic shock development after PCI (9.9% vs 3.8%, p=0.007).
Conclusions: Our study revealed a significant increase in in-hospital mortality, stent thrombosis and cardiogenic shock development after PCI in patients with STEMI and COVID-19 in comparison with contemporaneous non-COVID-19 STEMI patients.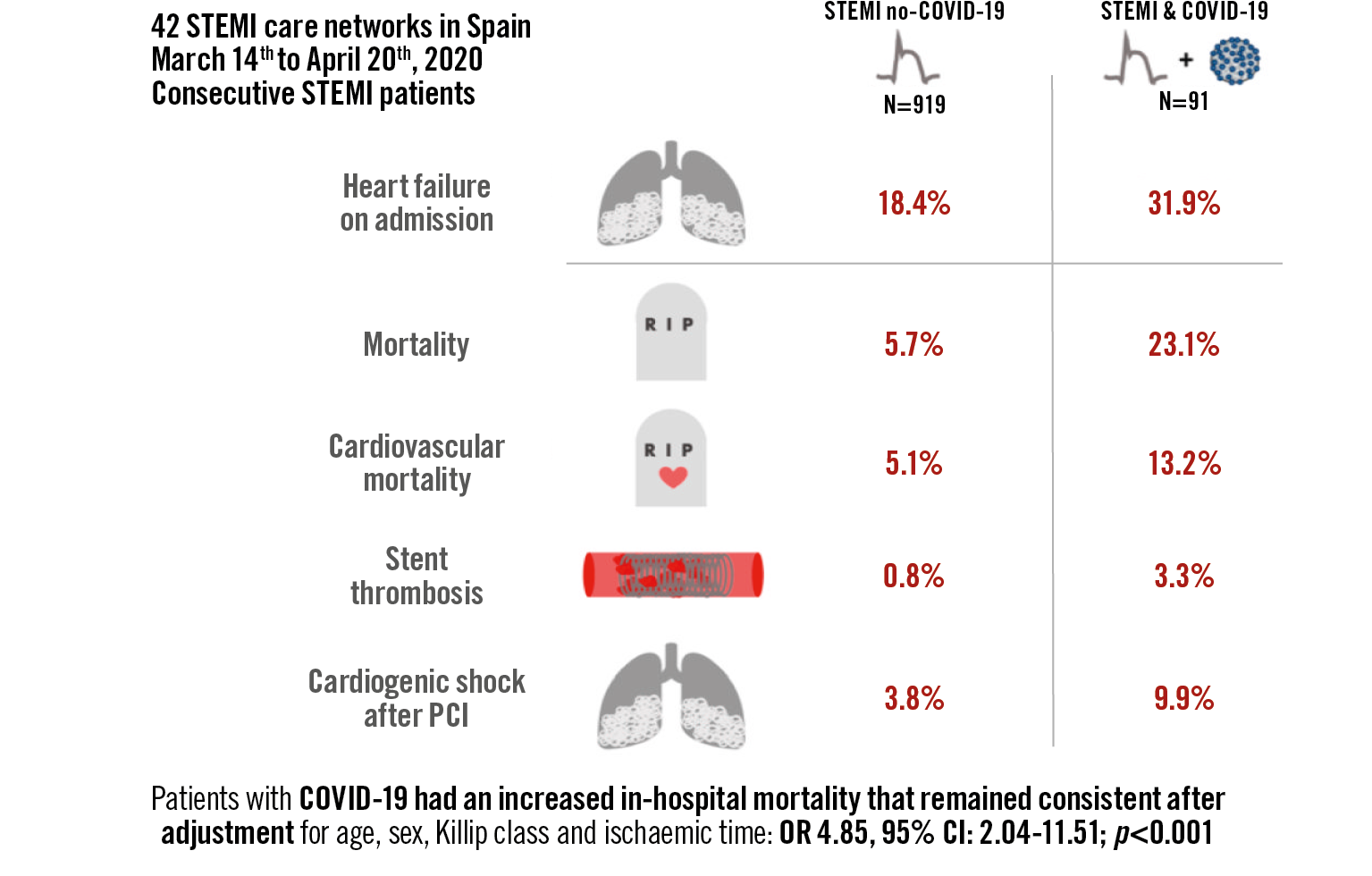 Visual summary. In-hospital outcomes of COVID-19 ST-elevation myocardial infarction patients.
No account yet?
Sign up for free!
Create my pcr account
Join us for free and access thousands of articles from EuroIntervention, as well as presentations, videos, cases from PCRonline.com
clinical research
miscellaneous
stemi
Coronary interventions
STEMI
Other coronary interventions
Read next article

Pressure-bounded coronary flow reserve to assess the extent of microvascular dysfunction in patients with ST-elevation acute myocardial infarction