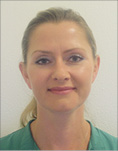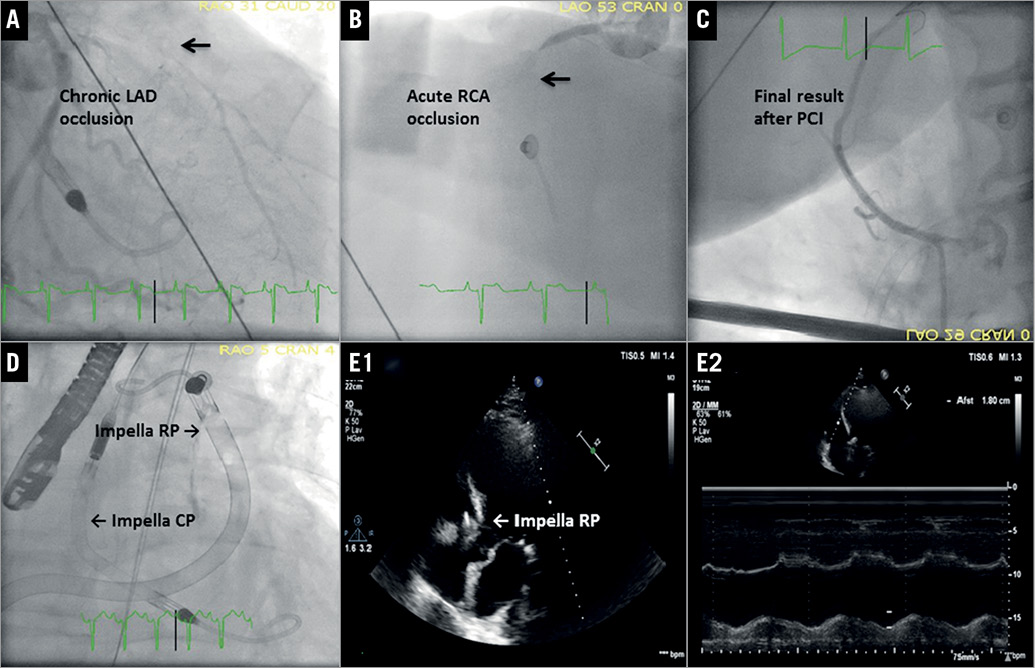 A 65-year-old man was admitted to our catheterisation laboratory after 55 minutes of cardiopulmonary resuscitation (CPR) due to refractory out-of-hospital cardiac arrest (OHCA). The initial rhythm was ventricular fibrillation which after defibrillation converted to pulseless electrical activity. The patient had a history of intermittent claudication. Immediately upon arrival, establishment of mechanical support was evaluated, in order to achieve return of spontaneous circulation. Usually, this will be achieved by using venoarterial extracorporeal membrane oxygenation (VA-ECMO)1. A previous small study suggested that mechanical support of the left ventricle (LV) with the microaxial Impella® CP pump (Abiomed, Danvers, MA, USA) may be feasible in this setting2. The Heart Team decided to implant an Impella CP in an attempt to re-establish circulation and perform coronary angiography. After insertion of the Impella CP, restoration of circulation was achieved after a total of 74 minutes with CPR (Moving image 1). A subsequent coronary angiogram showed a chronic occlusion of the proximal left anterior descending artery (Panel A) and an acute occlusion of the proximal right coronary artery (RCA) (Panel B). Percutaneous coronary intervention (PCI) with implantation of one drug-eluting stent in the RCA was performed (Panel C). Despite initial stabilisation, shortly after PCI the patient developed right ventricular (RV) failure that was not responsive to intravascular volume optimisation, high-dose inotropes and transvenous pacing (Moving image 2). In the current case, VA-ECMO could be considered as an alternative in such a situation3. Support using the percutaneous right ventricular-assist device Impella RP has previously been shown to be safe in patients with adequate oxygenation and RV failure, resulting in immediate haemodynamic improvement4, and thus seemed to be a valuable option in this situation.
After implantation of an Impella RP (Panel D), the patient was transferred to the intensive care unit, where circulatory stabilisation was achieved. Echocardiography on day 6 showed improvement of the RV function whereas the LV function was still reduced (ejection fraction 20%) (Panel E1, Panel E2, Moving image 3). The Impella RP could be removed on day 7 and the Impella CP on day 8. There were no device-related complications. The patient could be extubated on day 12 of his hospital stay without any neurological deficits and discharged home on day 41. Twelve months after the index event he was in good condition without further clinical events.
These images describe the first case of successful treatment of refractory OHCA and cardiogenic shock with biventricular failure by using biventricular Impella support.
Conflict of interest statement
L. Okkels Jensen has received research grants from Biotronik, St. Jude Medical, and Biosensors to her institution. The other authors have no conflicts of interest to declare.
Supplementary data
Moving image 1. Transoesophageal echocardiography after implantation of the Impella CP.
Moving image 2. Transoesophageal echocardiography showing a dilated right ventricle with a shift of the interventricular septum towards the left ventricle.
Moving image 3. Transthoracic echocardiography on day 6.