Alaide Chieffo1, MD; Marco B. Ancona1, MD; Francesco Burzotta2, MD; Vittorio Pazzanese3, MD; Carlo Briguori4, MD; Carlo Trani2, MD; Tommaso Piva5, MD; Federico De Marco6, MD; Maurizio Di Biasi7, MD; Paolo Pagnotta8, MD; Gavino Casu9, MD; Gennaro Giustino10, MD; Matteo Montorfano1, MD; Federico Pappalardo3, MD; Giuseppe Tarantini11, MD; Roberto Garbo12, MD; Gerlando Preti13, MD; Elisa Nicolini5, MD; Rocco Sclafani14, MD; Giuseppe Colonna15, MD; Marco Mojoli16, MD; Massimo Siviglia17, MD; Cristiana Denurra18, MD; Francesco Caprioglio19, MD
1. Interventional Cardiology Unit, IRCCS San Raffaele Scientific Institute, Milan, Italy; 2. Institute of Cardiology, Fondazione Policlinico Universitario A. Gemelli IRCCS, Università Cattolica del Sacro Cuore, Rome, Italy; 3. Advanced Heart Failure and Mechanical Circulatory Support Program, San Raffaele Scientific Institute, Vita Salute University, Milan, Italy; 4. Interventional Cardiology Unit, Mediterranea Cardiocentro, Naples, Italy; 5. Interventional Cardiology Unit, Ospedali Riuniti di Ancona, Ancona, Italy; 6. Department of Clinical and Interventional Cardiology, IRCCS Policlinico San Donato, Milan, Italy; 7. Interventional Cardiology Unit, Ospedale Luigi Sacco, Milan, Italy; 8. Cardiovascular Department , Humanitas Research Hospital, Rozzano, Milan, Italy; 9. Interventional Cardiology Unit, Ospedale San Francesco, Nuoro, Italy; 10. The Zena and Michael A. Wiener Cardiovascular Institute, Icahn School of Medicine at Mount Sinai, New York, NY, USA; 11. Department of Cardiac, Thoracic and Vascular Science, University of Padova, Italy; 12. Interventional Cardiology, Ospedale San Giovanni Bosco, Turin, Italy; 13. Interventional Cardiology Unit, Ospedale di Conegliano, Italy; 14. Interventional Cardiology Unit, Azienda Ospedaliera di Perugia, Italy; 15. Interventional Cardiology Unit, Vito Fazzi Hospital, Lecce; 16. SS Emodinamica Interventistica, AAS5, Ospedale di Pordenone, Italy; 17. Interventional Cardiology Unit, A.O. Bianchi Melacrino Morelli, Reggio Calabria, Italy; 18. Interventional Cardiology Unit, Ospedale SS Annunziata, Sassari, Italy; 19. Interventional Cardiology Unit, Mestre General Hospital, Mestre, Italy
Aims: The aim of this study was to investigate nationwide trends and clinical outcomes of the Impella device for cardiogenic shock (CS) and high-risk percutaneous coronary intervention (HR-PCI).
Methods and results: The IMP-IT study was a multicentre observational national registry which enrolled all patients treated with Impella 2.5, Impella CP, Impella 5.0 and Impella RP, both for CS and HR-PCI indications, across 17 Italian centres from 2004 to June 2018. A total of 406 patients were included: 229 had CS (56.4%) and 177 underwent HR-PCI (43.6%). The use of Impella increased significantly during the study period (average annual percent change 39.8%, 95% confidence interval: 30.4 to 49.9; p<0.0001) for both indications. The Impella 2.5 was the most commonly used device (N=242; 59.6%). Rates of in-hospital and one-year all-cause death in patients with CS were 46.9% and 57.0%, respectively; 18.5% underwent left ventricular assist device implantation or heart transplant at one year. Rates of in-hospital and one-year all-cause death in patients who underwent HR-PCI were 5.7% and 15.6%, respectively. Rates of device-related complications were 37.1% and 10.7% in the setting of CS and HR-PCI, respectively.
Conclusions: Use of the Impella for CS and HR-PCI is increasing substantially in Italy, despite relatively high rates of device-related complications.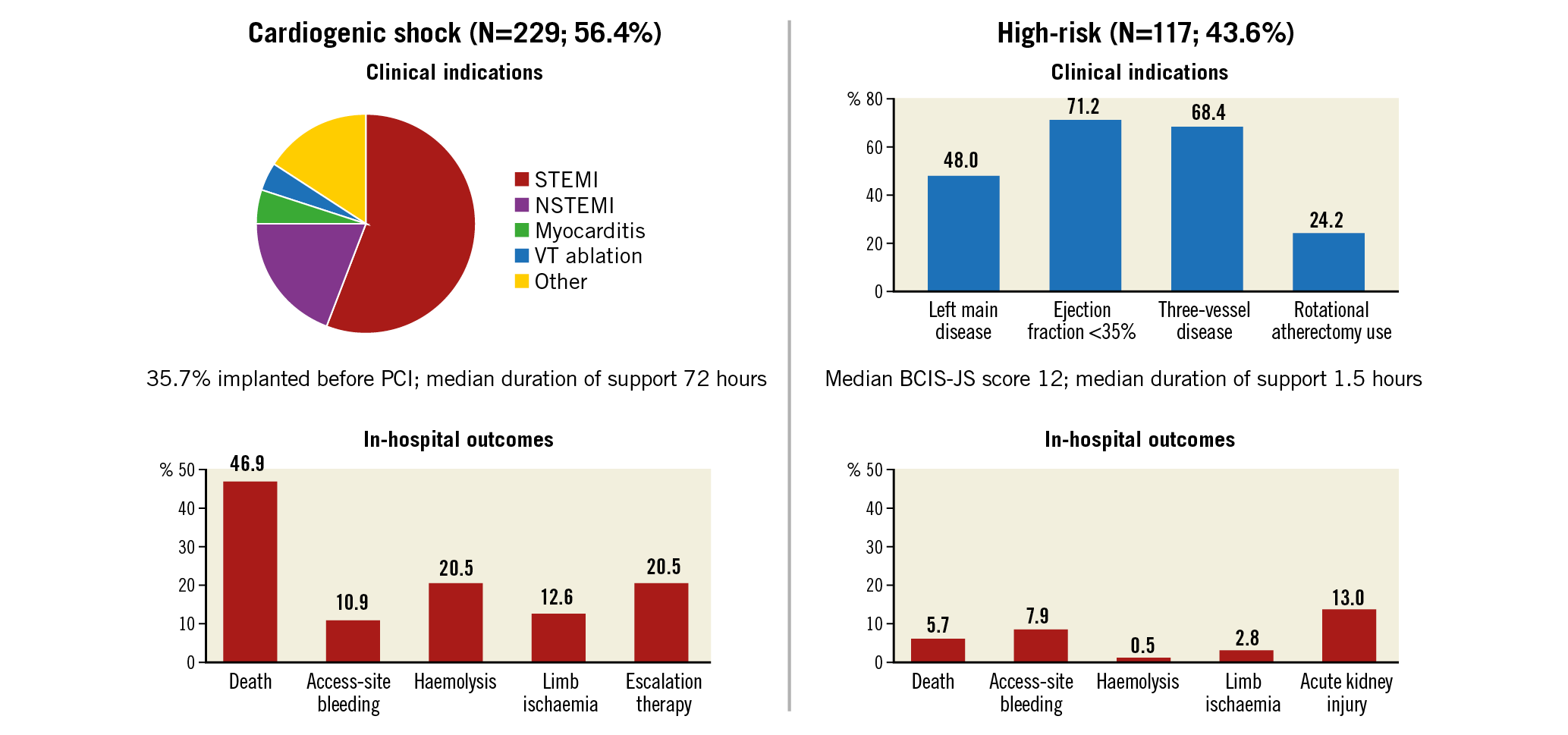 Visual summary. Impella Italian Registry (IMP-IT). 406 patients enrolled across 17 centres in Italy.
No account yet?
Sign up for free!
Create my pcr account
Join us for free and access thousands of articles from EuroIntervention, as well as presentations, videos, cases from PCRonline.com
acute heart failure
cardiogenic shock
left main
multiple vessel disease
ventricular assist device
Coronary interventions
Interventions for heart failure
STEMI
NSTEMI
Left main and multivessel disease
CTO
Other coronary interventions
Acute heart failure
Read next article

Computed tomography cardiac angiography for planning invasive angiographic procedures in patients with previous coronary artery bypass grafting