Leonardo De Luca1, MD, PhD; Massimo Uguccioni1, MD; Jennifer Meessen2, PhD; Pier Luigi Temporelli3, MD; Fabrizio Tomai4, MD; Francesco Mario De Rosa5, MD; Enrico Passamonti6, MD; Dario Formigli7, MD; Carmine Riccio8, MD; Domenico Gabrielli9, MD; Furio Colivicchi10, MD, FESC; Michele Massimo Gulizia11, MD; Gian Piero Perna12, MD
1. Division of Cardiology, A. O. San Camillo-Forlanini, Roma, Italy; 2. Department of Cardiovascular Medicine, Istituto di Ricerche Farmacologiche Mario Negri IRCCS, Milano, Italy; 3. Division of Cardiology, Istituti Clinici Scientifici Maugeri, IRCCS, Gattico-Veruno, Novara, Italy; 4. Division of Cardiology, European Hospital/Aurelia Hospital, Roma, Italy; 5. Division of Cardiology, P.O. dell'Annunziata, Cosenza, Italy; 6. Division of Cardiology, Istituti Ospedalieri, Cremona, Italy; 7. Division of Cardiology, A. O. G. Rummo, Benevento, Italy; 8. Division of Cardiology, Azienda Ospedaliera Sant'Anna e San Sebastiano, Caserta, Italy; 9. Division of Cardiology, A. Murri Hospital, Fermo, Italy; 10. Division of Cardiology, S. Filippo Neri Hospital, Roma, Italy; 11. Division of Cardiology, Garibaldi-Nesima Hospital, Catania, Italy; 12. Division of Cardiology, Azienda Ospedaliero-Universitaria Ospedali Riuniti, Ancona, Italy
Aims: We sought to assess the proportion of patients eligible for the ISCHEMIA trial and to compare the characteristics and outcomes of these patients with those without ISCHEMIA inclusion or with ISCHEMIA exclusion criteria in a contemporary, nationwide cohort of patients with stable coronary artery disease (CAD).
Methods and results: Among the 5,070 consecutive patients enrolled in the START registry, 4,295 (84.7%) did not fulfil the inclusion criteria (ISCHEMIA-Not Included or ISCHEMIA-Unclassifiable), 582 (11.5%) had exclusion criteria (ISCHEMIA-Excluded), and the remaining 193 (3.8%) were classified as ISCHEMIA-Like. At one year, the incidence of the primary outcome, a composite of death from cardiovascular (CV) causes, myocardial infarction (MI), or hospitalisation for unstable angina and heart failure, was 0.5% in the ISCHEMIA-Like versus 3.3% in other patients (p=0.03). The composite secondary outcome of CV mortality and MI occurred in 0.5% of the ISCHEMIA-Like patients and in 1.4% of the remaining patients (p=0.1).
Conclusions: In a contemporary real-world cohort of stable CAD patients, only 4% resulted in being eligible for the ISCHEMIA trial. These patients presented an extremely low annual risk of adverse events, especially when compared with other groups of stable CAD patients.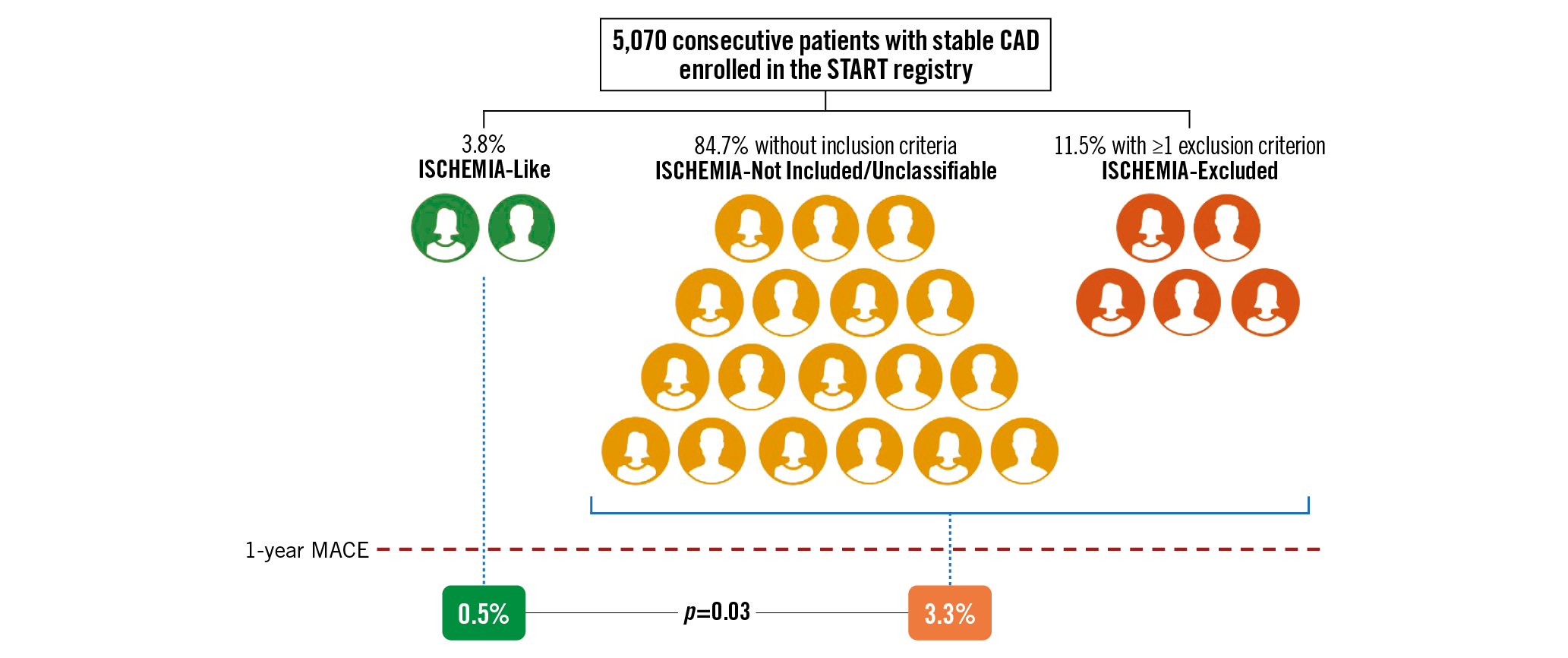 Visual summary. Proportion of patients with stable CAD enrolled in the START registry with or without ISCHEMIA criteria and their rate of MACE at 1 year.
No account yet?
Sign up for free!
Create my pcr account
Join us for free and access thousands of articles from EuroIntervention, as well as presentations, videos, cases from PCRonline.com
clinical research
quality of life
stable angina
Coronary interventions
Stable CAD
Read next article

Twelve-month clinical and imaging outcomes of the uncaging coronary DynamX bioadaptor system