In the next edition of our Cardio Chat, we invite you to discuss the recent article "Intravascular ultrasound assessment of coronary ostia following valve-in-valve transcatheter aortic valve implantation" by Michele Pighi et al.
Michele Pighi will be online live to answer your questions on Twitter.
Our social media editors Waqar Ahmed and Luis Ortega
will moderate the conversation.
The Cardio Chat is a privileged time to exchange with the interventional cardiologist community on Twitter. During this moment, our social media team selects an article of major importance so you can comment on it on the social network.
Tweet chats are the opportunity to discuss the impact of the latest studies in your daily practice, to exchange with your peers throughout the world and to stay in the know!
To take part, all you need is a Twitter account and use #EIJCardioChat in your tweets.
Don't have a Twitter account yet? You can create one right now and follow EuroIntervention.
Join the great #CardioTwitter community!


Don't miss the upcoming Cardio Chat: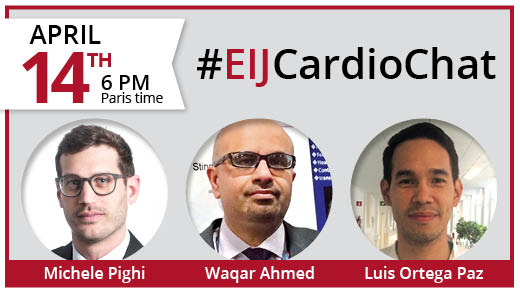 Wednesday, April 14th – 6:00 PM Paris Time